Audit Essentials:

The Ultimate Checklist to Help You Ace Your Next Audit or Quality Review

Download your FREE copy of our Checklist 'How to Ace Your Next Audit or Quality Review'.

It contains vital information that will help you plan for your Audit or Quality Review without the stress, and will help to reduce the risk of non-conformances for your organisation.

This is a must-have resource for any community organisation that must undergo Audits or Quality Reviews in order to maintain its approval status.
(FPP3) Ace Your Next Audit or Quality Review Opt-In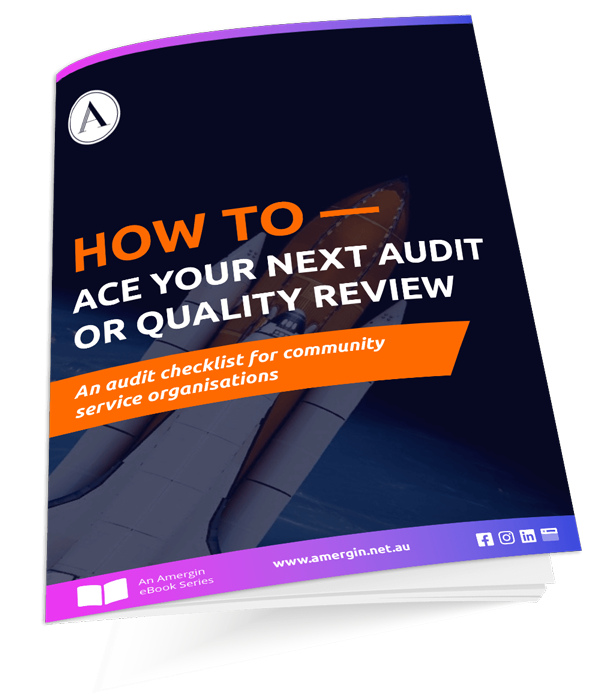 Some Organisations We Work With
A free audit checklist for community service organisations
This checklist, exclusive to Community Sector Providers, will reveal:
3 actionable steps to help you feel more confident at audit;
Information on how to plan for audit WITHOUT feeling stressed or panicked;
What you should NEVER forget when preparing for audit;
How to manage compliance with minimal effort; and
The TRUTH about undergoing audit and why success can be so much easier than you ever imagined!
"During the course of our operations, we have regularly sought advice, information and support from Amergin to help us manage the many challenges, complexities and changes associated with the delivery of NDIS community services. Amergin has consistently responded to our enquiries in a timely manner, and their friendly staff have always strived to provide accurate and 'best practice' advice.

Amergin's commitment to 'go the extra mile' was demonstrated recently with the wonderful support they provided to us during the preparation for our first NDIS audit. We would not have achieved the success we did without their dedicated and committed contribution.

Amergin reflects their stated mission in helping clients 'survive and thrive' in the Australian community sector and have worked collaboratively with us as a Business Support Partner."
Get Instant Access to this Exclusive Free Checklist Now!
Simply enter your details and your free PDF copy will be delivered straight to your inbox.